Pakistani business industry is filled to the brim with many IT companies. Hundreds of these software companies have already found success in the national market while new and new companies are seen to be opening almost every day.
However, there is still a lack in the IT market of Pakistan which is a good management software. This is where a good ERP for IT companies could fit in to help.
Currently, almost every IT company manages their business on something like an Excel sheet. Which is considered an extremely outdated and unfit software for business management.
However, the blame is still not on the companies themselves. There was no affordable and practical ERP provider in Pakistan for small company start-ups. But this is not the case anymore.
Let's learn how you can equip your software house with an extremely efficient ERP for IT companies in just PKR 10,000 and 25 Hours ERP Implementation to yearn towards succession!
THE PROBLEM
Core ERP For IT Companies vs. Excel Sheets and Traditional Business Management ERP
Using Spreadsheets As A Business Management Software
The practice of using an Excel Sheet has been running for ages in IT companies 
administration. 
This is because of the easy nature of the software which requires little to no training. Plus, the software is cheap and there are free alternatives as well such as Google Sheets.
However, this spreadsheet software is only primarily for data entry.
Yes, it makes data organized and manageable but doesn't smoothen the workflow or help you manage a department/floor.
This is the reason spreadsheet software are considered obsolete and are very much time-wasting and unproductive as compared to ERP for IT companies.
Traditional ERP
The other option for software companies is to get a good ERP for their business, however, this option is also an impossible one.
Most startups of IT companies aren't aware of how long they will survive in the industry. 
The cheapest ERPs cost more than a million rupees, excluding their implementation.
A typical ERP implementation would not only cost a lot for a small startup but also occupy their time, at least a year approx. 
With such a lengthy and expensive package, most IT companies, even successful ones, are reluctant to opt for ERP software.
Even though businesspersons know an ERP is going to be productive and profitable, with such heavy implementation plans small businesses like IT companies feel more comfortable using a Spreadsheet instead.
Core ERP
Knowing all the detail, you must understand better why IT companies are seen to not be using good management software, however, it doesn't have to stay this way.
Recognizing the issues in the local business market, 
CIS brings the most practical and affordable ERP for IT Companies to enable growth and success in the IT industry.
Why Shouldn't The IT Company Create Their Own ERP?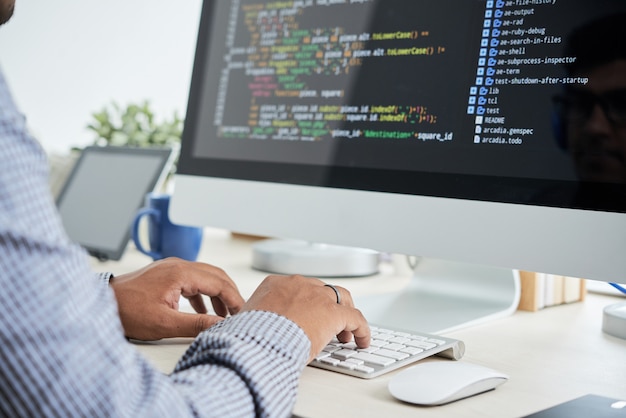 Unlike other companies, IT companies may be fully capable of creating their own ERP for business management.
With extremely skilful IT professionals that reside in Pakistan, this may be a good option, however, usually creates a lot of problems for the company.
Creating an ERP isn't an easy process. Why should you waste your valuable time on a secondary product? 
For a Cloud ERP, purchasing domains and creating a good web-based server can cost you more than what Core ERP is priced at.
Even if you're a business that has been residing for a decade, ERP is created on a trial and error basis. This means upon creating an ERP you need to understand its issues, fix them up, try again, and repeat.
From a professional ERP provider like us, you get a polished product that has already passed all trials.
Let yourself work on your primary product and we work to better facilitate you by working on our primary product: CIS ERP for IT Companies.
THE SOLUTION
What Is CIS Core ERP For IT Companies?
CIS Core ERP For IT Companies is a specialized product tailored for business startups, software houses, back offices, and administration departments which need a good business management software but, one way or another, can't afford an expensive and lengthy ERP.
This ERP for IT Companies features all modules and management options that a company would require, as its primary function is to create easiness in a business environment.
The ERP For IT Companies is web-based, which means you save on hefty equipment and can access the Cloud ERP remotely anywhere, at any time.
To tackle the primary issues of an IT Company, CIS Core ERP for IT Companies is kept extremely affordable and the ERP Implementation time is kept at minimal!
Features Of CIS Core ERP For IT Companies
To fully satisfy the needs of an IT Company, it is important for business management software to kinda DO IT ALL!
Well, the Core ERP for IT Companies does that… and more.
CIS Core ERP creates a complete database for all business data, whether it relates to employees or documentation.
All products and processes of making the product can be streamlined and even automated for ease in day to day operations.
HR management is made efficient with a powerful ERP Payroll Module that provides the option for proper employee management, generating customized salaries, pooling allowances, and more.
The Accounting Module helps keep track and display details of every investment in the business with titanic modules allowing up to 10 layers of charts of accounts: 
General Ledger

Accounts Receivable

Accounts Payable

Inventory

Fixed Assets

Purchase

Sales
The Reporting Module helps managers and owners get a transparent view of the company's performance and position.
Numerous ERP reports can be generated relating to numerous processes that take place in the company for better decision making, enabling the company to grow towards being a leading IT company in the global market.
For efficient planning and control, extensive budgets can be created relating to different cost centres or departments which may be subject to allocation, apportionment, and re-apportionment.
As IT Companies mostly work on a hierarchical basis, much like every other company, an ERP helps businesses understand their chain of command better and brings efficiency in communication. 
Users and Roles can distinguish authority between employees and managers to streamline the communication flow in the company.
This isn't all! To get better personal advice on YOUR business, contact our ERP consultants.
As business startups are reluctant to invest a big amount even if it is popular for having a better return, CIS creates a flexible option that eliminates all fears.
CIS Core ERP for IT Companies costs just PKR 10,000/month. 
You may be wondering, why a monthly payment? Well, there are several reasons for it.
Firstly, a monthly payment makes it more affordable for small companies to afford a powerful business management software.
No company should be restricted growth just because of financial restrictions.
Secondly, the Core ERP is a Cloud Based ERP software. This means you don't own the ERP, you just subscribe to it.
But this isn't bad! Ownership of expensive software is a big burden for companies.
When you don't certainly know how long a company may efficiently run, our ERP option for your company enables you to eliminate that fear. 
If unfortunately, your company falls into business running problems, you can just unsubscribe to the ERP service, instead of being burdened with an all-for-nothing ERP ownership.
25 Hours ERP Implementation Plan
Yes, you read it right. ERP for IT Companies can be implemented in just 25 hours, making us the best ERP provider for a successful ERP implementation.
A rapid ERP implementation doesn't mean a hurried ERP Implementation. In minimal time, your company will be more than capable of professionally running the ERP. Your database will be digitized, and your processes can now be streamlined.
Learn more about Rapid ERP Implementation Plan – 25 Hours.
Then wait no more, contact our ERP consultants right now to step in the right direction.
If you want a hands-on experience on the ERP, register for a FREE ERP online demo.
What Is ERP Software and How Does It Work?